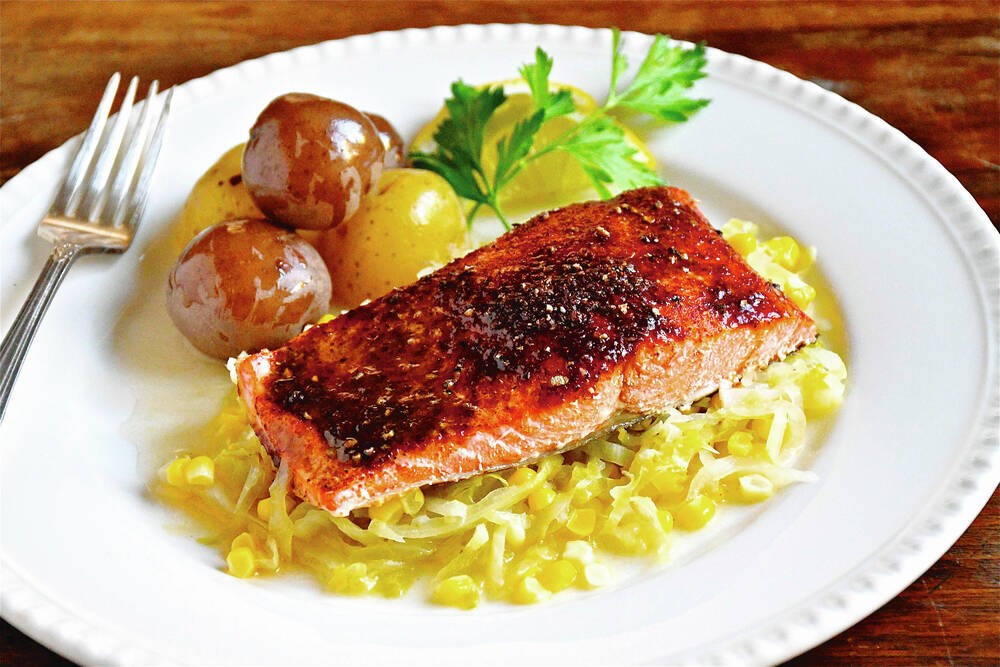 Eric Akis: Humble burgers get the gourmet treatment
If you crave a tender, flavorful steak, but can't afford the price of cuts such as beef tenderloin or rib eye, buy more economical ground beef instead and turn it into a whole dish. so pleasant. I've taken this approach with today's burger steak recipe, which is easy to make and offers preparation options.
Ground beef is, of course, ground beef formed into a steak shape before cooking. Before forming the meat, you mix it with ingredients that will help hold it together when cooked, such as breadcrumbs and egg. You also mix the meat with ingredients that will flavor it richly and/or enhance its tenderness; mine included sliced ​​green onion, thyme, garlic, Dijon mustard and milk.
Before adding these ingredients to the ground beef, I first mixed them until well blended, then mixed them into the meat. This makes it easy to quickly incorporate them into ground beef without overworking the meat, ensuring that it is not too compact and is bite-tender when cooked.
After my burgers were cooked and plated, I dressed them by topping each with sliced, creamy, tangy blue cheese and a red wine flavored sauce. It's a decadent way to turn humble ground beef into a creation you might see served in a bistro or cafe with green beans, carrots and potatoes, like I served them.
If you don't like blue cheese and/or can't have wine, the options portion of the recipe addresses those concerns.
My recipe makes four servings. If that's too much for you, after forming the burgers, cook only the ones you need now, but do all the sauce. Wrap and freeze uncooked steaks and freeze the remaining sauce separately. Later in the year, when you want burger steaks again, defrost these items, cook the steaks, reheat the sauce, and finish the dish as described in the recipe.
Chopped steaks with blue cheese and wine sauce
Humble ground beef shaped into steaks, cooked, plated and decadently topped with tangy blue cheese and red wine sauce.
Preparation time: 25 minutes
Cooking time: About 20 mins
Makes: four servings
1 large egg, beaten
1/3 cup dried breadcrumbs
2 tablespoons of milk
2 teaspoons of Dijon mustard
1 large green onion, minced (see note)
1 large garlic clove, minced or 1/4 teaspoon garlic powder
1 teaspoon chopped fresh thyme, or a pinch or 2 dried
1/2 tsp salt, plus more to taste
1/4 teaspoon freshly ground black pepper, plus a little more to taste
1 1/4 pounds (about 560 grams) lean ground beef
100 to 125 grams of blue cheese, cut into thin slices
1 tablespoon olive oil
1/3 cup red wine
1 3/4 cups beef stock or broth (divided)
2 tablespoons all-purpose flour
• chopped fresh parsley, to taste (optional)
Place the egg, breadcrumbs, milk, mustard, green onion, thyme, garlic, 1/2 tsp salt and 1/4 tsp pepper in a mixing bowl and mix to combine. Add the ground beef and toss gently to combine with the ingredients in the bowl. With hands moistened with cold water, shape meat mixture into four 3/4-inch-thick oval patties and place on a plate. Preheat the oven to 200 F.
Place the oil in a large skillet over medium, medium-high heat. When the oil is hot, add the burgers and cook for four to five minutes on each side, or until cooked through. When cooked, the center of hamburger patties should register 160 F (71 C) or higher when tested with an instant-read meat thermometer.
Place the steaks on a baking sheet and keep warm in the oven. Meanwhile, drain excess fat from skillet and return to medium, medium-high heat. Add the wine and reduce to about 2 tbsp. Add 1 cup broth (or broth) and bring to a boil. Place the remaining 1/2 cup broth (or broth) and flour in a small bowl and whisk until smooth. Pour and whisk this mixture into the skillet, return to a boil and simmer until a thickened sauce forms, about three to four minutes. Taste and season the sauce with salt and pepper, if needed.
Place a burger on each of the four hot plates. Top each burger with a little blue cheese. Pour over the sauce, sprinkle with parsley, if desired, and serve.
To note: To mince the green onion, cut it lengthwise into thin strips. Align these strips, then cut them thinly, widthwise, into small pieces.
Eric's Options: If you don't like blue cheese, top each hamburger patty with brie cheese or thinly sliced ​​goat cheese, or simply omit the cheese from the recipe. If you can't have wine, when making the sauce, substitute 1/3 cup more broth and a little balsamic vinegar and reduce as described for the wine, before finishing the sauce.
eakis@timescolonist.com
Eric Akis is the author of eight cookbooks. Its columns appear in the Life section on Wednesday and Sunday.